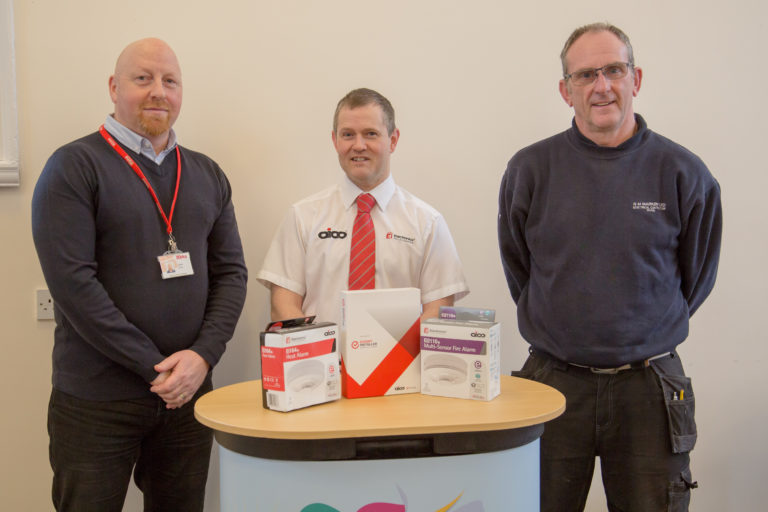 Berwickshire Housing Association (BHA) has announced that local electrician Bob Markby has secured a contract, valued at £211,000, to fit Aico Fire Detection Systems within its properties over a three year period.
David Gray, Technical Services Manager at BHA, said:
"There is a general concern that with the tightening of Procurement Regulations small local contractors will miss out on these opportunities against some of the bigger national companies. However, this award shows that that is not the case.

We took the decision to procure this contract via Public Contracts Scotland to show fairness and transparency whilst not deterring locally based companies from tendering for this work. We were delighted to have received so many tenders from Borders companies and following our scoring process are pleased to announce that Robert Markby Ltd based in Duns was successful in securing this work.

We look forward to working with Robert Markby Ltd and AICO over the next three years to deliver this work which will ensure our tenants remain safe in their homes."
Bob Markby said:
"I am delighted to have won this contract as it enables me to employ local tradesmen to assist in carrying out the work involved."
David Gray added:
"BHA have decided to install Multi-Sensor alarms to provide tenants with more control, enable alarm data extraction and connect with external telecare systems.

Due to the dual sensors communicating with each other, BHA also foresees a reduction in call outs to electricians for alarms sounding when no fire is present."
The Multi-Sensor Fire Alarm contains two sensor types, optical and heat, to constantly monitor smoke and heat levels, sending and receiving information via its intelligent detection software. This sensor information alters the alarm's sensitivity and trigger points, automatically providing the best response to all fire types and reduces potential false alarms.
The installation work has already begun, starting in BHA's empty properties, with the aim of bringing them up to the more stringent LD2 category of fire protection. To meet this, Multi-Sensors will be installed in the main living area and will be replacing Optical and Ionisation alarms on exit routes. This will be rolled out to all BHA's housing stock over time.