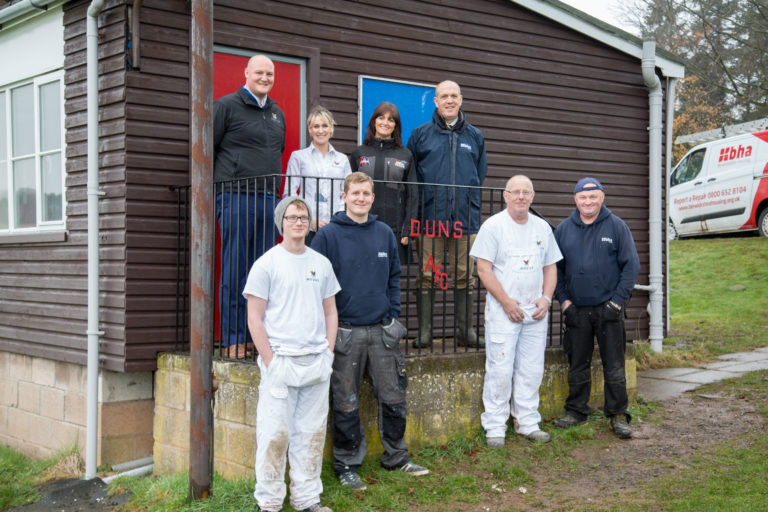 Duns Junior Football Club has scored with the very first local Supplier Community Grant awarded by Berwickshire Housing Association (BHA) as part of its current contract with Novus Property Solutions.
The grant has resulted in the club's changing facilities at their Gavinton pitch getting a premier upgrade with new paintwork throughout.
The facility has been in need of repair and refurbishment since the senior club moved to the New Hawthorn Park pitch at the old Berwickshire High School.
Duns JFC chairperson Richard Dobson explained: "Last year we saw an article in the Berwickshire News regarding BHA's Supplier/Contractor Community Benefit Funding, so we submitted an application to have the changing rooms at Gavinton painted.
"Our long term goal is to have the changing rooms rebuilt and add more parking, as we have players and parents from all over Berwickshire – Duns, Gavinton, Chirnside, Preston, Coldstream, Leitholm and Eccles – who descend on Gavinton every week, but this will require a great deal of fund raising.

BHA accepted our application and a site meeting was arranged along with representatives of Novus and Dulux, to allow them to see the tired and neglected facility.

Novus offered not only to paint inside and outside, but also carry out some repairs to the building, which we were amazed at. Dulux supplied all the paint.

We are all very impressed at the quality of the work done. Externally the timber clad walls look like new and inside there has been a much needed improvement, thanks to the fresh paintwork, but also the patchwork ceilings have been over-boarded and look great.

As a small club, which has grown in size over the past few years to having over 100 children playing, we rely solely on volunteers and numerous fundraising activities to allow the club to run. Without the help of BHA we would never have been able to transform our changing rooms like this.

From the club, players and the volunteers involved here, we would like to say a massive thank you to BHA, Novus and Dulux for what they have done."
BHA's technical team leader Derek Szoneberg added:
"We at BHA are proud to have been able to bring Novus and Dulux together through our community benefit scheme to carry out repair and redecoration to the Duns JFC changing rooms at Gavinton.

Giving the children upgraded facilities to enable them to have fun and do what they love doing in much nicer surroundings is a great local example of what we aim to do in the much wider Berwickshire community."