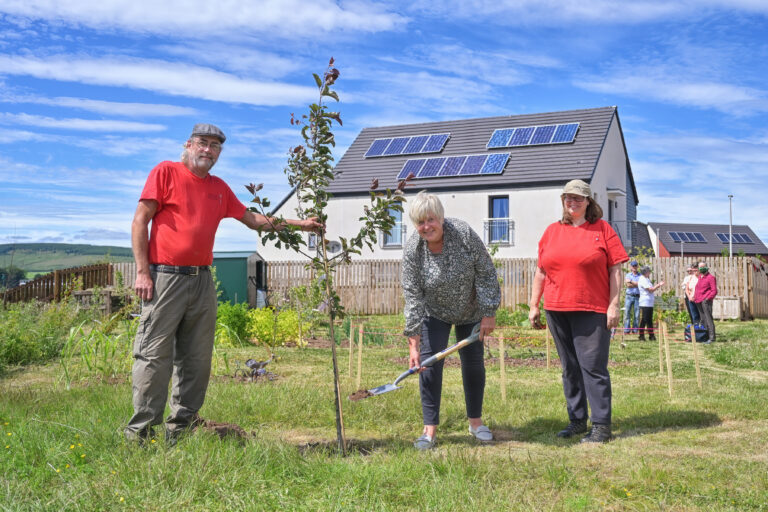 Berwickshire Housing Association's Community Food Garden in Duns was officially opened on Thursday (June 24) and to mark the occasion Chief Executive Michelle Meldrum planted a fruit tree and unveiled a plaque.
The Community Garden at Todlaw has been designed specifically for those living in the area and has been planted in a gap site owned by BHA within its Todlaw housing development. The garden will be developed in partnership with Abundant Borders, a community organisation who work to ensure everyone has access to healthy nutritious food. They have already secured Lottery funding in advance to develop the garden as a training base where people can learn how to grow their own food in a sustainable way.
The Community Garden is a place to grow fruit and vegetables for yourself and your family. It is also a place to grow friendships and get to know your neighbours. It's a place to grow confidence as you learn new skills
The Garden will include an orchard, raised beds and other facilities to encourage use by tenants and their families including children of all ages. It is envisaged the garden will evolve and grow as a sustainable dynamic greenspace for the benefit of BHA tenants and the wider community.
Knowledgeable staff from Abundant Borders will be on site each Tuesday and Wednesday between 10am and 2pm. You can pop along and find out more or drop an email to projects@abundantborders.org.uk and someone will be on hand to welcome you. All tools, gloves and equipment are supplied and Covid safe practices are in operation.
BHA's Chief Executive Michelle Meldrum said: "We are delighted to be working alongside Abundant Borders to support the development of a network of community food gardens across Berwickshire. BHA have already provided space for community gardens in Eyemouth and Ayton and this latest one in Duns will help ensure that everyone, regardless of personal circumstances, has access to healthy, nutritious food.
Abundant Borders also provide learning opportunities to support people to cook healthy and inexpensive meals from the food grown or sourced locally.  The community garden here in Duns will be a place where like-minded people can meet up, have a chat and enjoy growing their own food which supports overall wellbeing for all involved."
Annie Casey, Chief Officer (Finance and Administration) at Abundant Borders, explained: "We had access to the garden at Duns for about two weeks before the first lockdown of 2020, but as restrictions eased we have been able to get started and for some months now we have welcomed a limited number of volunteers into the garden adhering to Covid-safe practices.
"The garden is open to everyone, absolute beginners through to experienced growers. Even if people just want to sit and enjoy the good company, fresh air and the amazing views, that's fine too.
"The garden is edged with native shrubs and wildflowers and we are growing all kinds of perennial salads and annual vegetables. There are black, red and white currants along with gooseberries and 30 fruit trees.
"We are really excited that the community garden will also soon have an outdoor classroom so the that we can all come together and learn together …… and shelter from the Duns rain!
"It is fantastic that BHA continues to support us with the community gardens. We are also grateful to Scottish Borders Council who helped to fund the outdoor classroom and to Tweed Forum who have provided 30 fruit trees."
Photo caption: Berwickshire Housing Association's Chief Executive Michelle Meldrum planted a fruit tree to mark the official opening of the new Duns Community Food Garden. Looking on are Pete Saunders and Pauline Stewart from Abundant Borders.