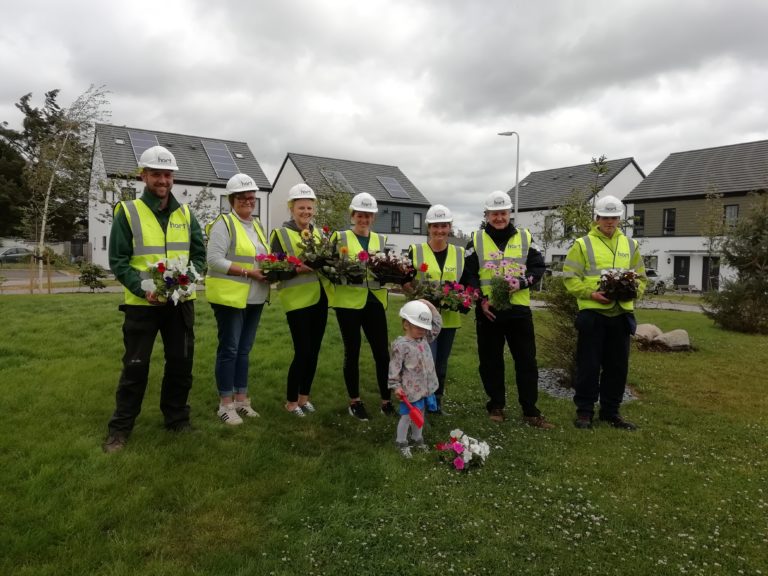 Berwickshire housing Association's (BHA) Station Drive development in Duns is looking blooming beautiful thanks to a donation of plants from Hart Builders and the green fingered skills of the tenants.
When Hart Builders heard that Station Drive had entered the 'Best Dressed Street' competition which takes place during the town's Summer Festival (July 1-7) they were only too pleased to help and, with the assistance of their plant suppliers, Midlothian Council's Land and Countryside Service, they donated a variety of plants and shrubs which have now been planted by the tenants making the street one of the most colourful in the town.
The residents are also planning to hold a street party on Saturday, June 30, when they are hoping to have approximately 60+ households participating in some way or another.
The whole street now has a real community atmosphere to it with tenants out tidying common garden areas along with neighbours' gardens etc. in preparation for the competition judging.
Gill Henry, Business Development Director, Hart Builders (Edinburgh), said:
"Hart Builders were delighted to donate plants to the residents of Station Drive in Duns and wish them all the best in their efforts to win 'Best Dressed Street' as part of Reivers Week.

We hope the enthusiasm of the residents and their fantastic community spirit is rewarded with a well-deserved win and a great day of celebrations at their street party on June 30."
Station Drive resident Roni Brown said: "We are all so grateful to Hart Builders for the plants and to BHA for helping to organise this, it will make such a difference to the look of our street.
"It has been a great community effort in the planning and planting with even the kids mucking in and we now have a dedicated team who will be tending the plants and making sure they are watered regularly.

Thanks must also go to Neil Redpath for kindly donating tyres which we are using as planters and we are hoping that everything will be in full bloom for our street party which will be a real community event to mark the start of Reivers Week and our entry for the Best Dressed Street competition."