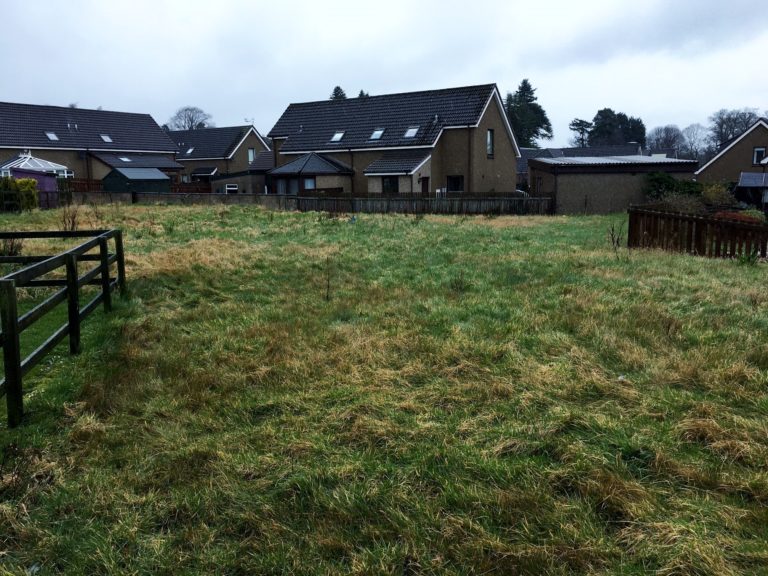 Berwickshire Housing Association (BHA) is proposing to transform a vacant piece of land into a vibrant sensory garden for Community Integrated Care residents at Station Court in Duns.
As the result of a competition involving the Station Court residents, the new garden will be named 'Bumblebee Garden'.
The site, owned by BHA, is currently surrounded by existing housing and when a further two new houses are constructed it will become land-locked with the only access from Station Court. It is proposed that this largely flat site will become a garden for the local residents who live in the housing support units in Station Court. The garden will be run jointly by BHA and Community Integrated Care, together with the assistance of the local residents. BHA is allocating significant funds from its development budget to complete this project.
The Bumblebee Garden will provide a quiet social space for residents to interact, grow plants and vegetables and invite neighbours, family and friends to share and enjoy their new communal garden. The garden will have a range of plants and features designed for sensory stimulation and will have spaces for social gatherings.
Sarah Barron of architects Smith Scott Mullen, has designed the garden with the residents of Station Court in mind, including those who are wheelchair bound. Paths, raised beds and an accessible poly tunnel will be carefully designed so that anyone can take part in gardening duties. The garden will be dementia friendly, safe and accessible to ensure all residents of Station Court can contribute to this green space development.
The creation of a communal Community Garden is also earmarked for another piece of land between new Todlaw developments and will form the second phase of this project towards the end of the year. This will include an orchard, raised beds and other facilities to encourage use of the garden by tenants and their families including children of all ages.
The outline of both projects has been welcomed by proposed partners and stakeholders. Agreement in principle to collaborate in delivery has been received from A Heart for Duns, Abundant Borders and Community Integrated Care who have all offered their volunteer expertise including planting, maintenance and horticulture. BHA's prime housing contractor, HART Builders will undertake this work and will contribute to the project as part of their Community Benefits programme.
BHA's Community Initiatives Manager Dougie Paterson said:
"We are delighted to offer a small piece of land and work closely with our partners to create a wonderful sensory space for residents of Station Court.

The Bumblebee Garden forms part of our ongoing commitment to creating thriving communities in Duns and across Berwickshire. We are excited to see the Bumblebee Garden coming together for everyone to enjoy."
Community Integrated Care's Regional Manager, Rachel Fourie, said: "This sensory garden will mean so much to the people we support, their families and our colleagues, giving them a space where they can enjoy the fresh air and the beautiful surroundings of Station Court. Sensory gardens have been known to improve health and wellbeing, which is why this space will be so important to our service in Duns.
"We'd like to thank our housing partners, Berwickshire Housing Association, for allowing us to use the space to create what promises to be a fantastic area for us to enjoy, and for their hard work and commitment to the project so far."
Derek Janes, Chair of A Heart for Duns added: "A Heart for Duns is delighted to be involved in this project, which will be supported by our splendid 'Blooming Marvelous' volunteers who work hard to improve and maintain the appearance of the town for the enjoyment of local people and visitors."