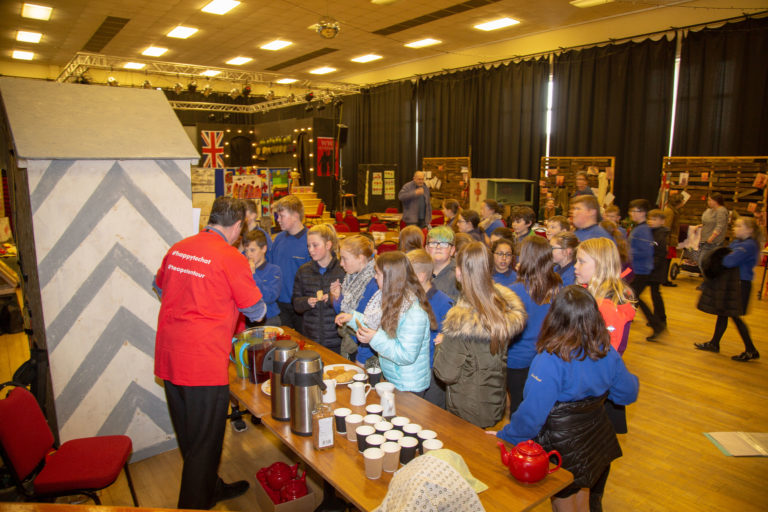 Allanbank Arts, A Heart for Duns and Berwickshire Housing Association this week welcomed over 200 members of the community including school children and tenants of BHA to Duns Volunteer Hall to explore an interactive art installation.
Allanbank Arts have worked with over 200 people to create the artwork displayed in the foyer and main hall. Some have made a single poppy while others have given more time to the project. Contributors have ranged in age from 5-101.
Liz Hardy of Allanbank Arts said: "The work you see has been a collaboration between young and old, growing in scale and scope as we have worked towards our goal. Stories have been told and shared, new friendships have been made and we have all learnt from each other. The young people involved have demonstrated respect, empathy and compassion beyond their years and the generosity of our older citizens has been overwhelming.
"We have completed this installation with a fresh understanding of the sacrifices made during the Great War, and of the horrors of war and conflict. We have spoken to many people over the last few months and have been struck by the importance of both remembering the horrors of war and striving towards peace. It is in the spirit of remembrance of the past and hope for the future that we feature both red and white poppies in the installation.

We would like to thank The Berwickshire High School, Duns Primary School, Chirnside Primary School, tenants and staff at Berwickshire Housing Association, Drysdales, Cameron Crosby, staff at the Volunteer Hall, the young people from Allanbank Arts and especially Jenny, Dave and Connor Laidlaw."