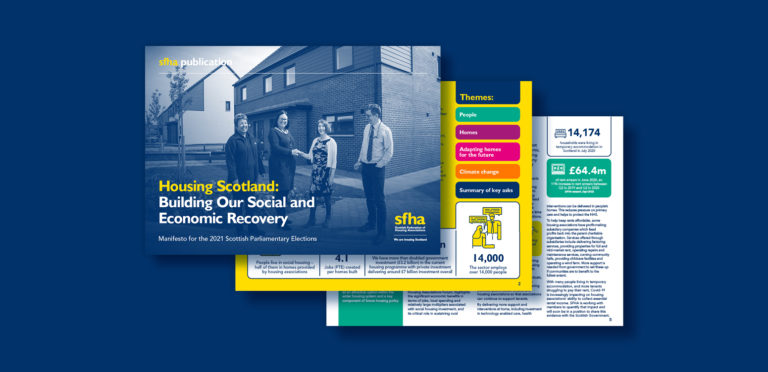 Berwickshire Housing Association (BHA) is supporting the Scottish Federation of Housing Associations (SFHA) in calling on all political parties to commit to investing in the social housing sector in order to support Scotland's recovery from Covid.
In the run-up to next month's Holyrood election, SFHA has outlined its calls to Scotland's political parties, with the publication of its new manifesto, Housing Scotland: Building Our Social and Economic Recovery.
SFHA's manifesto sets out a road map for Scotland's social and economic recovery from the coronavirus pandemic that puts access to high-quality, affordable housing at its core. Among its calls is for all political parties to commit to delivering 53,000 affordable homes between 2021 and 2026 as well as to a capital investment programme of £3.4 billion. SFHA say that committing to this new target will tackle housing need, reduce poverty and create jobs.
The manifesto focuses on three themes of people, homes and climate change and sets out 25 actions to tackle housing need, poverty and homelessness; future-proof housing stock; and reduce Scotland's carbon footprint.
SFHA's other asks include calling for the next Scottish Government to commit to:
a large-scale, multi-year funding programme for improving and refurbishing existing housing stock to bring it up to date with the latest government energy efficiency standards
a review of the Housing for Varying Needs standard in order to mainstream standards of accessibility and make homes suitable throughout people's whole lives
continuing the transition to a Rapid Rehousing approach to homelessness and the investment needed to deliver it in Scotland
a government engagement plan with housing associations on the implications of growing rent arrears, not only in relation to tenants but also their landlords, in order to minimise the impact on individuals and communities.
BHA's Chief Executive, Michelle Meldrum, said: "BHA are fully supportive of SFHA's manifesto which outlines priority actions which seek to address some of the social and economic challenges facing the nation. These actions demonstrate the significant contribution of the social housing sector within any national recovery effort. More locally within the Scottish Borders, the RSL's work closely together alongside other key partners to address local issues and ensure a coordinated response to key priorities."