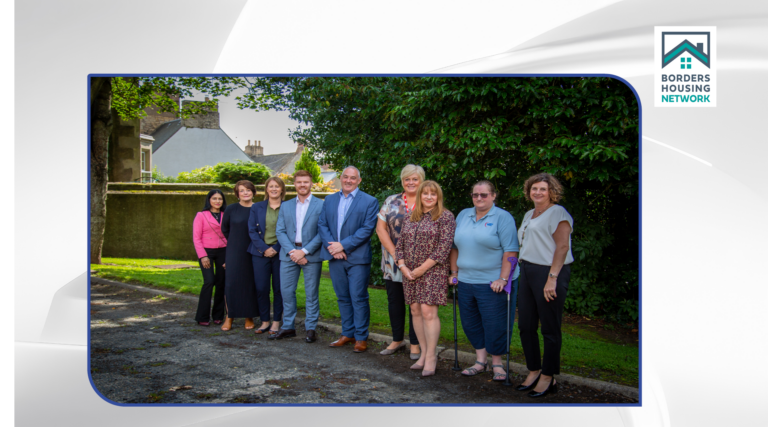 Picture caption: Housing Minister Paul McLennan with representatives from the Borders Housing Network (BHN) at Berwickshire Housing Association's office in Duns on Tuesday, 15 August 2023
Duns, 15 August 2023
Housing Minister Paul McLennan met Borders Housing Network (BHN) representatives to find out more about the work  they are doing in relation to domestic abuse including  the challenges they face supporting victims and survivors living in rural communities.
Michelle Meldrum, Chief Executive for Berwickshire Housing Association (BHA) presented the Network's key approaches to addressing domestic abuse which include (i) a unified staff policy and specialist training for all staff across the four RSLs, (ii) a new staff support network with "Domestic Abuse Workplace Support" (DAWS) volunteers placed across BHN, (iii) an increased focus on prevention and early intervention and (iv) improved access online and offline, to national and local support services and information.
The Borders Housing Network's Chief Executives recently restated their commitment to the CIH "Make a Stand" pledge which encourages the social housing sector to develop policies for both staff and customers, appoint a senior leader as the organisation's domestic abuse champion, and ensure information in relation to support services is available and easily accessible.
During the meeting, a domestic abuse survivor shared her personal experiences of receiving support from BHA and the positive difference this made.
Housing Minister Paul McLennan said,
Domestic abuse is the leading cause of homelessness for women in Scotland. I was pleased to learn about the work of the Borders Housing Network in tackling domestic abuse throughout the communities they serve. The Make A Stand pledge is playing a crucial role in supporting women and children experiencing domestic abuse. From specialist training for staff to improved access to services and information, their work is helping more people to feel safe in their homes.

I urge all social landlords to do everything that they can to support their tenants experiencing domestic abuse to be safe, including staying in their own home and preventing homelessness. We have committed to make it a statutory requirement for all social landlords to have a domestic abuse policy as part of the planned prevention of homelessness duties.
BHA's Chief Executive Michelle Meldrum said,
We appreciate the opportunity to meet with the Housing Minister to discuss the role of social housing in the context of domestic abuse, an issue which has devastating impacts on victims, children, families and wider communities. The social housing sector has a key role to play alongside other partners in developing and implementing interventions around prevention, early intervention, support and enforcement.  We welcome the strengthened legislation and look forward to continuing our dialogue with the Minister and his team.
Press release by BHN
Borders Housing Network (BHN) comprises of the four leading Scottish Borders Registered Social Landlords (RSLs) – Berwickshire Housing Association (BHA), Eildon Housing Association (EHA), Scottish Borders Housing Association (SBHA) and Waverley Housing (WH). Together, BHN provides over 11,000 homes, serving c.23,000 residents within the Scottish Borders. With a combined team of c.450 staff, BHN generates revenue of over £40m annually which is reinvested into homes and local communities. The network offers joint support programmes, optimising resources and increasing the quality and accessibility of services to tenants across the region. BHN – Making a difference, transforming lives and places in the Scottish Borders.
BHN's Make A Stand Pledge
Pledge 1: Resident Policy – Policy to support residents experiencing domestic abuse
Pledge 2: Accessible Information – Make information about national and local support services available on website and other appropriate places which are easily accessible for residents and colleagues
Pledge 3: HR Policy – Have in place a HR policy to support colleagues that may be experiencing domestic abuse
Pledge 4: Senior Champion – Appoint a champion at a senior level in your organisation to own the activity you are doing to support the people that are experiencing domestic abuse