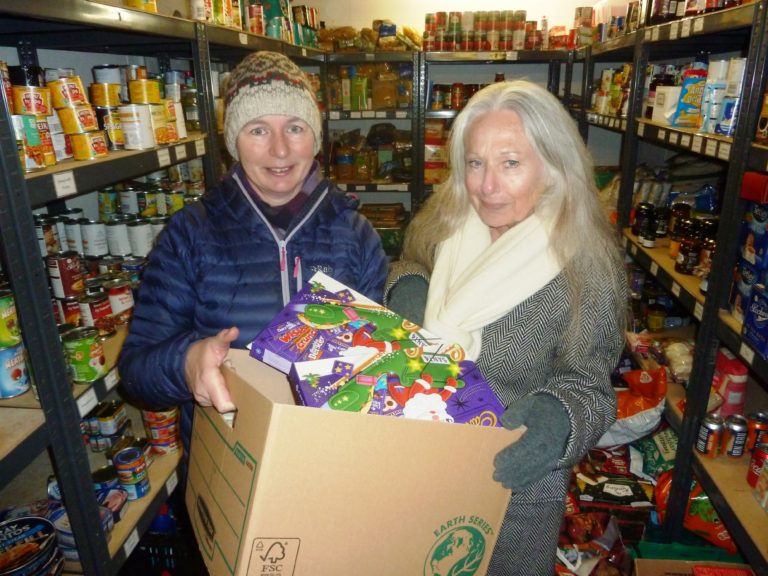 Christmas is a time for giving and Berwickshire Housing Association has been collecting items for the local Food Bank.
Staff at BHA's offices in Duns and Eyemouth decided they wanted to support the Food Bank run by the joint churches of Berwickshire and held a special '12 Days of Christmas' event where staff members donated food items and filled 12 boxes – one for each day of the campaign.
Items donated included a variety of tinned food, rice, tea bags, coffee, sugar, cereals, long life milk, soap, toothpaste, shampoo etc, as well as some festive treats.
Food boxes are provided to people in crisis who have been referred by agencies such as Social Services, Citizens Advice Bureau and Berwickshire Housing Association who, on average, refer six a week. A week's supply of food is provided to each person referred.
Marion Rayner, Senior Financial Inclusion Officer at BHA, said:
"When times get tough and people find it more and more difficult to feed themselves and their families, BHA has been proactive in referring those tenants for help from the Food Bank.

The Food Bank does a wonderful job of collecting and distributing food donations from across the area and since the introduction of Universal Credit the number of requests for food parcels from tenants who are struggling has increased significantly.

Each year BHA staff have donated generously especially, around Christmas time, and this year is no exception. We voted to support the Berwickshire Food Bank collecting for the '12 Days of Christmas' and the response has been amazing."
Tom Redpath, Food Bank Quartermaster, thanked BHA staff for their support and added:
"What an amazing effort much appreciated by us and I'm sure I speak for the recipients as well for whom it will have brought much Christmas cheer."
Anyone wishing to make a donation to the Food Bank can do so by leaving it in the foyer of Duns Parish Church, at the foot of the stairs, from Monday to Friday, 9am to 5pm.
The following is a list of items used in the food boxes: pasta, jars of pasta sauce, tins of stew or similar, tinned pies, tins of pilchards, corned beef, ham etc, cup-a-soups or tins of soup, jam, tea bags, coffee, breakfast cereal, long life milk (liquid or powder), tins rice pudding, tins of fruit, tins of potatoes, vegetables and baked beans.