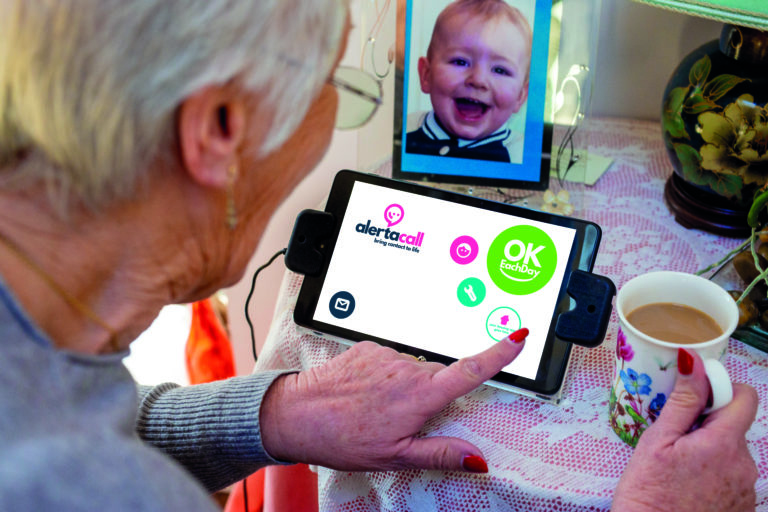 Berwickshire Housing Association (BHA) has introduced Housing Proactive, Alertacall's housing management service, at its independent living courts in Coldstream, Duns and Eyemouth.
The service was successfully implemented at Gowanlea, Boston Court and Linkim Court in December 2020 in properties for those aged over 55.
Housing Proactive maintains regular contact with tenants using specially developed technology and a highly trained contact centre team. The system confirms health and safety, improves tenant communication and gives individuals more flexibility in how and when they engage with their housing service.
Tenants routinely engage with specially designed, easy to use devices on a daily basis and press an 'OKEachDay' button to collect news, updates and other important information in relation to their property or tenancy. In this instance, the primary device deployed was a specially developed portable touchscreen which is supplied ready to use in a custom-made stand. Importantly, the touchscreen doesn't require WiFi or internet connection to work and does not require any cabling or hard wiring.
If a tenant does not engage with their device, they are called by a member of the Housing Proactive team, who all receive specialised training on communicating with customers with higher needs and in relaying repairs issues to housing providers.
Data around service interactions is recorded and provides a range of housing management reports in real-time via secure online reporting, such as occupancy tracking. The system helps to focus staff time and significantly reduces the administrative work for housing teams to provide more one-to-one support, something that has become increasingly important when working remotely.
The Housing Proactive installation team has continued to install and provide services for older people and those with higher needs throughout the coronavirus pandemic. All devices provided by Alertacall are easy to self-install without the need for any hardwiring or cabling and, consequently, face-to-face contact. Also, additional sanitisation measures were taken prior to delivery to ensure there was no risk to customers.
As well as engineers on-site, tenants were also able to speak to a highly trained member of the contact centre team who could provide reassurance and guidance on any aspects of the service every day of the week.
BHA's tenants say they feel more safe and secure thanks to the Alertacall system. One resident said: "We already have good safety measures in the building but having Alertacall makes it better and I feel safer at the weekends knowing someone will contact me. The repair function on the system is also very good at the weekends or when the staff are off site."
Another added: "Over the weekend it gives you that feeling of more security and extra support and knowing it's there when staff aren't."
Julie Riley, BHA's Housing Services Manager, commented: "The recent install project completed by the Housing Proactive team at three of our independent living courts was extremely efficient, with clear communication from their team throughout.
"I was also delighted to learn about some of the work Alertacall undertakes to tackle loneliness with older tenants, which further highlights what a fabulous service this is and shows the thought the company has for their customers. When I needed an urgent message to be sent out to our customers – I composed it, emailed it and within 10 minutes it was sorted. Great company to work with!"
Benjamin Lambert, Head of Client Relations, said: "Housing Proactive has an ever-growing presence in Scotland and we are excited to form a partnership with BHA.
"The service will provide tenants with increased access to their housing service 365 days a year and we are thrilled with the positive response from both the housing team and tenants using the service. It is great to see that increasing digital engagement is a key initiative for BHA, particularly as a tool to help tackle social isolation during the COVID-19 pandemic and get communities better connected. With the introduction of our simple to use portable touchscreen we also hope to promote digital awareness amongst tenants and help to make digital services more accessible for all."