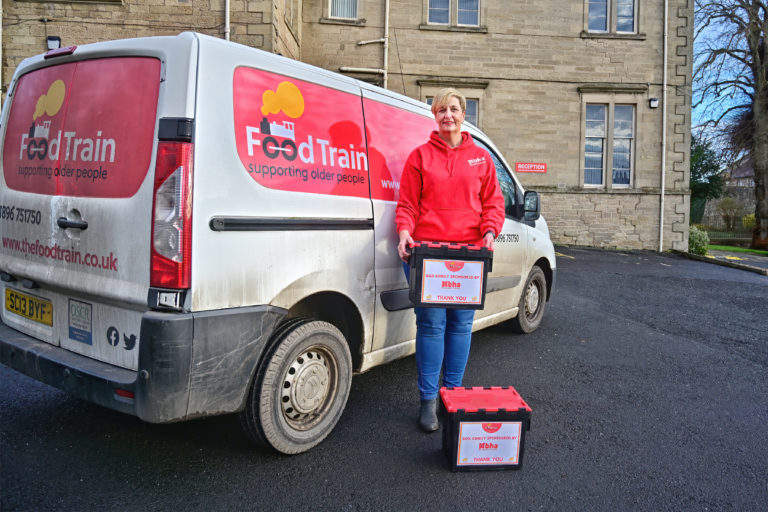 To mark its 25th anniversary Berwickshire Housing Association (BHA) have sponsored 25 Food Train boxes – one for each year – which will be used to deliver essential food shopping to isolated and vulnerable elderly people during the Covid-19 pandemic and beyond.
Staff at BHA BeFriend have been working alongside those at Food Train's Borders branch throughout the pandemic so it is a partnership which has evolved over time.
Food Train is a registered Scottish charity, voluntary organisation and social enterprise, which is also celebrating its 25th anniversary this year. Since 1995 the charity has been making daily life easier for older people, providing vital services to those who are no longer able to manage independently, through age, ill health, frailty or disability.
Food Train makes hundreds of grocery deliveries every week, ensuring those most in need have access to fresh food. Teams of dedicated local volunteers across the regions also go that extra mile by helping with household jobs and providing much needed friendly social contact.
Nikki Hood, Food Train's Regional Manager in the Borders, explained: "From a small, committed volunteer base, the charity has seen an almost three-fold increase in the number of volunteers coming in each day to help. Many of the regular volunteers pre-Covid were reluctantly forced to step back, however, the response from the local community in the Borders, in coming forward to help, has been overwhelming.
"During this period our volunteer Shoppers and Delivery teams have been teachers, care workers, British Gas staff, rugby players, retirees, chefs, business owners, BHA BeFriend staff, and others, including volunteers returned from India and Spain and a couple of pairs of hands from down under! What they all have in common is their compassion, care and kindness. They are spreading a wee bit of sunshine to our older members who are lonely during this crisis."
The Borders branch of Food Train, which opened just over three years ago, is based in Galashiels and has seen local volunteers shop and deliver over 3,500 boxes this year already, with a very busy month ahead, continuing to provide a service every week throughout the festive period. The charity has responded to an almost three-fold increase in demand for its essential shopping and delivery service, and it's thanks to new local volunteers coming forward that this service is able to expand.
One of those BHA BeFriend staff members helping Food Train out is BeFriend Group Worker Kerry Hague. "It all started when we were first told that we needed to work from home back in March," explained Kerry.
"At BHA BeFriend we spend most of our time out in the community so for us working from home meant it would be slightly difficult to fill in all our hours so we were told that we could use some of our working hours to help support other community organisations do anything that helped support local communities.
"I contacted Volunteer Centre Borders (VCB) and explained that If they heard of any organisations in need of a bit of assistance to pass on our contact details. Nikki Hood from Food Train was in desperate need so through VCB she got in touch with me.
"During lockdown, in March to July, my colleague Kerry Whitson and I took on responsibility for phoning around 20 people each Monday to have a welfare chat and take their shopping list orders then we would help do the shopping and some deliveries.
Now that the world has gone back to some kind of normality we no longer help with the shopping but still continue to ring the same amount of people to get their shopping list and have a general chat. It really has been a fab little partnership that has evolved naturally over time and Food Train now have some of our befriendees receiving shopping and we have had a couple of their customers join BeFriend to get access to what we have to offer."
Food Train has seen a record-breaking increase in people using its established grocery shopping service since the start of the coronavirus crisis. Its team of volunteers and staff are now ensuring groceries reach 3,045 people across nine Scottish regions, compared to 1,905 before the pandemic.
As well as intensifying its shopping service during the coronavirus lockdown – with volunteers adhering to public health guidance at all times – Food Train has carried out more than 4,300 check-in calls with over-65s as part of its national befriending project and has continued to deliver hundreds of meals nationally every week as part of its Meal Makers scheme.
If you would like to donate or volunteer please contact the Borders Branch of Food Train at 48 Overhaugh Street, Galashiels TD1 1DP (Tel: 01896 751750. Email: scotborders@thefoodtrain.co.uk. You can also follow them, on Facebook – Scottish Borders Food Train, or Twitter – @FoodTrainScot).
If you would like to become a volunteer with BHA BeFriend call 01361884000 or email BeFriend@berwickshirehousing.org.uk