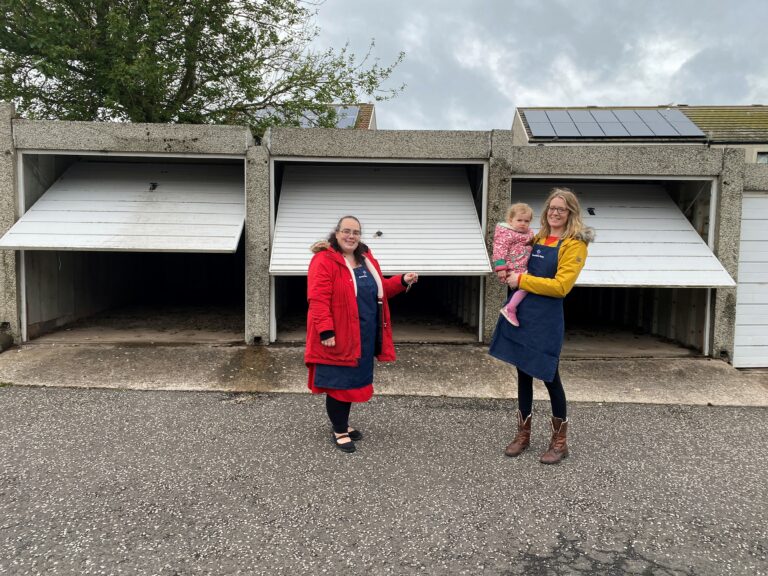 Berwickshire Housing Association (BHA) is supporting local charity Berwickshire Swap with new projects which provide emergency clothing parcels and a cloth nappy library.
BHA, along with Berwickshire Association for Voluntary Service (BAVS), is providing this support through the Scottish Government's Supporting Communities and Covid Recovery funding.
Berwickshire Swap started out as a group of parents who had an increasing mountain of children's clothes that did not fit anymore. The ways to pass these clothes on were limited, charity shops struggle to sell children's clothes and recycle quite a bit as rags.
Catherine Goldsmith of Berwickshire Swap explained: "It was decided to have a day where we could bring our outgrown clothes and swap them with the other parents in our friend group.
"It was then decided to hold an event in Reston village hall and open it up to the local community, we could not be the only parents with this problem. If the event failed, the hall hire didn't cost much so if no one turned up it wouldn't be the end of the world and anything left over could be donated to the charity shops.
"We were pleasantly surprised that over 20 people came and swapped their unwanted clothes. Our next swap later in the year had over 40 attendees and then we held a swap in the Duns volunteer hall and over 80 people came along.
"Within a year of holding our first swap we had run several successful swap events and became a Scottish charity."
Berwickshire Swap then started making up emergency clothing parcels using its stored clothes. These emergency parcels are available through referral from schools, health visitors, social work, BHA and other local organisations. They provide a seven-day wardrobe of used clothing and new in packet pants and socks for children aged 0-12 years.
Part of Berwickshire Swap's charitable objectives includes sustainability and environmental awareness. Cloth nappies are a much better environmental choice compared to disposable, however, they do cost more up front. This is also a challenge that many people are unwilling to take on if they do not have relevant knowledge or support.
The new cloth nappy library gives out nappy bundles for families to try out for a few weeks at a small cost. The bundle can contain a variety of nappies and everything you need to cloth nappy a child and the Berwickshire cloth nappy library will hold introduction workshops to help families find out how cloth nappies work and if they would like to try them either though Berwickshire Swap's trial packs or on their own. There will be online support through Facebook groups (https://www.facebook.com/BerwickshireClothNappyLibrary) for parents to share ideas and experiences and to ask questions.
Catherine added: "We have been working on getting our new projects up and running. We have created around 50 emergency clothing parcels ready to give out when required and we have also created around 15 cloth nappy packs for people to try out and hand back before deciding if cloth nappies are for them.
"Parents can borrow a newborn bucket, which contains the smallest nappies. There is a selection of styles to allow parents to find what works best for them and saves the cost of buying newborn nappies that may only fit for a few months. These will be available to borrow for 6-8 weeks at a time.
"The one size kits contain a selection of different types of nappies that parents can borrow for 2-4 weeks at a time to allowing them to try cloth nappes and see what works best for them."
As well as providing Berwickshire Swap with grant funding, BHA has helped with the provision of storage facilities for this expanding local charity.
Sarah Barnard from BHA's Community Initiatives team said: "'BHA is delighted to help support Berwickshire Swap get off the ground. It's been wonderful to have seen the progression of the charity over the last two years and how they have adapted during COVID 19 to provide children's clothing parcels and the launch of their reusable nappy project, helping to make environmental sustainability accessible to all."
Berwickshire Swap's next event is a children's clothes swap in Reston Village Hall at 2pm on Saturday, June 12, just in time to get the kids organised for summer. So why not have a clear out and take along any children's clothes you don't need any more and swap them for what you do need? Once you have paid your £1 entry fee you can then take any clothes you need for free.
For further information on Berwickshire Swap's you can email them at berwickshireswap@gmail.com or visit their Facebook page https://www.facebook.com/berwickshireswap.