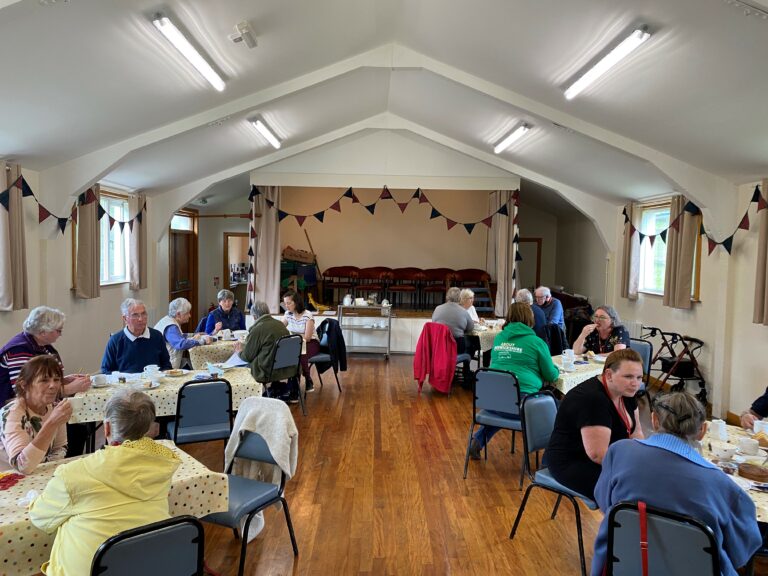 Berwickshire Housing Association's BeFriend project is joining forces with Abundant Borders to take its Lunch Plus programme to towns and villages across the district.
Abundant Borders first started Social Lunches in Coldstream in 2019, with regular visits from BHA BeFriend – befrienders, befriendees and staff. Following the success of these weekly events it was decided to take these lunches to other communities across Berwickshire.
With support from Berwickshire Alliance, and thanks to Scottish Government Covid Recovery Funding, this is now happening and each Thursday, Lunch Plus pops up in a different village! Abundant Borders staff and volunteers prepare homemade soup and sandwiches and BHA BeFriend arrange a variety of games and activities for everyone to enjoy.
Karen Birch, Chief Officer (Projects) at Abundant Borders, said: "The feedback has been incredible, and it is wonderful to be able to support even our most isolated villages and bring hearty food and good cheer to residents.
"It's fantastic to be working so closely with the wonderful folk at BHA BeFriend and to be taking social lunches, fun and games to communities across Berwickshire. It is lovely to see people getting back out into their communities, meeting friends, chatting, enjoying freshly prepared food and having a bit of fun together after the couple of years that we have all had."
Terri Bearhope, BeFriend Project Co-ordinator, said: "It's so good to be able to see people out and about again. We've had fantastic feedback from people attending and we know that they're loving the chance to see old friends and meet new ones.
"Abundant Borders have been amazing, and their food is wonderful, second to none. The village halls have also been really supportive, not only do they let use their facilities, we've had committee members attending the lunches too."
So far Lunch Plus events have been held in Grantshouse, Cockburnspath, Preston, Chirnside and Gordon and others are planned for Foulden (December 2), Burnmouth (December 9) and Greenlaw (December 16). They will also restart again in January.