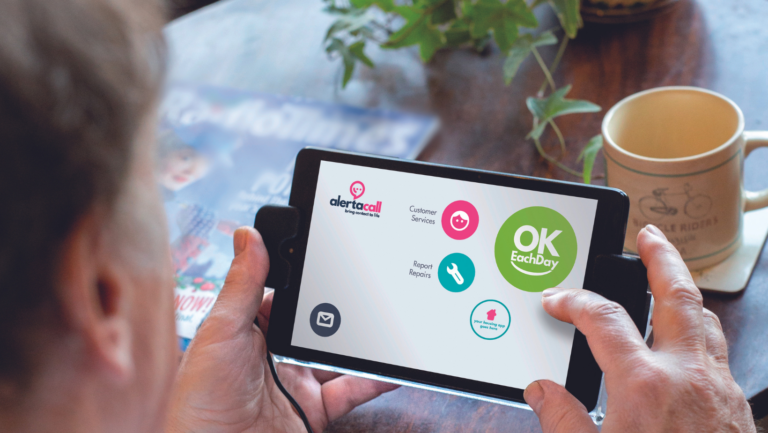 Berwickshire Housing Association (BHA) are delighted to congratulate our partners Alertacall on their achievements on winning the Queen's Award for Innovation, the most prestigious awards for UK businesses and is a globally recognised royal seal of approval.
Alertacall – A technology company inspired by a staunchly independent grandma to create pioneering services which allows older people daily contact while retaining a high level of personal freedom has been honoured with a Queen's Award For Enterprise for Innovation.
James Batchelor, from Kendal, founded Alertacall in 2004 when he created technology to keep his 86-year-old grandmother Eveline and others like her safe by allowing them to easily confirm they were safe each day or otherwise receive a call from a friendly, specially trained person.
The company's technologies have since helped tens of thousands of older people to retain their independence, saved many lives and are also now used to modernise sheltered housing schemes nationwide with features that include video-calling.
Alertacall's excellent work has been formally recognised as one of the very few organisations nationally to receive the prestigious Queen's Award.
The Queen's Award for Enterprise are the highest accolade awards for UK businesses recognising and celebrating business excellence, with Alertacall demonstrating outstanding success in innovation.
To read the full Alertacall article please see the following link: https://www.alertacall.com/the-queens-award/
Dan Blake, Executive Director – Customer Experience at BHA comments on the prestigious award "Alertacall provides our tenants with increased access to our service 365 days a year and we are thrilled for all the team at Alertacall who have been honoured with The Queen's Award for Innovation.
It is great to see that increasing digital engagement continues to be high on everyone's agenda particularly as a tool which helped tackle social isolation during the COVID-19 pandemic and get communities better connected"
Congratulations note from Michelle
To James,
I personally wanted to extend our congratulations to you and your team on behalf of everyone here at Berwickshire Housing Association on your Queen's Award For Innovation for Innovation honour.
It is the UK's most prestigious business award of recognition a company can receive. There is, quite simply, no greater honour and we are proud to be working in partnership with you.
Our country is full of exciting innovative businesses and the Queen's Awards are a great way of celebrating success and a prestigious way to recognise your contribution to innovation.
Wishing you and all your team all the success in the future and we look forward to continuing to work in partnership with you.
Enjoy the celebrations.