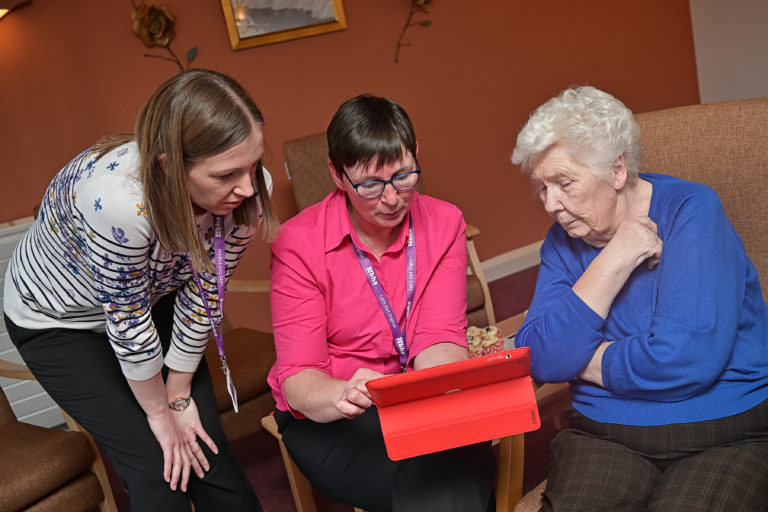 Berwickshire Housing Association (BHA) received £78,200 in June last year from the Supporting Communities Fund to help support the work of local organisations during the Covid-19 pandemic.
The Supporting Communities Fund (SCF) was established by the Scottish Government with an initial £20m investment to provide funding to community anchor organisations, such as charities, voluntary organisations, Housing Associations and social enterprises, to help support local responses to the Covid-19 pandemic.
In addition, BHA is working with the Scottish Federation of Housing Associations (SFHA) to further develop an understanding of social value as an approach to measuring impact locally. In order to support the sector to do this, SFHA has produced the Social Value Toolkit to enable member associations to increase their ability to understand, measure and demonstrate their impact. BHA trailed this method to help measure the impact of the SCF funding in communities.
The £78,200 received enabled BHA to extend its Community Initiatives Programme including supporting projects to switch to online, increase support to those shielding or self-isolating and new ways to encourage involvement during the pandemic.
Among those who received funding were:
Hygge – The Hygge programme in Eyemouth became hygge@home to extend its activities online focusing on aspects of wellbeing and mutual support.
Allanbank Arts Creative Hub – Allanbank Arts created a network through social media platforms to support adults and young people who struggle with anxiety.
Abundant Borders – Abundant Borders encouraged people to grow food in a sustainable way through new online training courses, workshops and supported learning in the network of community food gardens to address food insecurity.
The Learning Space – The Learning Space developed outside more space and for young people through expanding its outside space by extending their current garden area and creating a calm nature and nurture wildlife space.
Splash– During the pandemic Splash have worked in partnership with Eyemouth Response Team, East Berwickshire Food Bank, Eyemouth Rotary, Links Eyemouth and local businesses. Over 70 volunteers have helped provide food items, meals, shopping, support phone calls and delivery of prescriptions to people in isolation and those struggling with food poverty.
Berwickshire Swap – This BHA tenant led community enterprise project produced 50 emergency clothing parcels for children in the Berwickshire area on referral through BHA, health visitors, social workers and local schools.
Horse Time – Horse Time is a specialist trauma centre in Berwickshire that uses equine therapy, therapeutic groups and individual interventions to bring about transformative change to people's lives. With additional funding through BAVS, a range of group programmes were experienced by local people.
Let's Get Digital Berwickshire – The project team delivered this in partnership with several local organisations creating a successful digital lending library. A total of 50 devices with unlimited data SIMS have been purchased and most are now out on loan for a maximum of six months.
BHA worked closely with BAVS to support community groups deliver their activities across Berwickshire. The creative use of Supporting Communities Funding and the overall impact of these activities demonstrated the value of investing in our communities to support people during this stage of the pandemic. The total social value evidenced through these outcomes is calculated as a net benefit to the local community of £249,723 which provides a ratio of higher than 1:3 of impact of every pound spent.
Dougie Paterson, BHA's Community Initiatives Manager, said: "The achievements of the groups we have helped support has been amazing throughout the pandemic. Whilst the social value generated is encouraging, we know it is impossible to adequality calculate the true value of the commitment, talent and creativity of these projects in supporting so many people over the last year.
"We want to build on this for the future and develop permanent networks that support community wellbeing and help mitigate the challenges we face as we recover from Covid-19. BHA is delighted to be working with so many like-minded partners who share that ambition.'
Juliana Amaral, Executive Officer at BAVS, added: "One positive side effect of the current COVID-19 crisis has been the response we have seen from communities and third sector organisations offering assistance and support across the Borders. BHA's Community initiatives Programme was fundamental during such a difficult time, acting with the agility required based on strong grass-roots community relationships.
"Moving forward, BAVS plan is to continue our joint work with BHA as we plan the way out of the crisis, with a stronger focus on delivering social value locally and ensuring that our partnership means our resources are maximised so we can continue to create a genuine positive impact across Berwickshire."